Is Your CNC Letting You Down?
Many high speed CNC machines do not have the torque for low speed work, and machines with lower spindle speeds cannot perform high-speed work. Often you are forced to move parts from one machine to another; and this adds to labor time. Although this may sound like a normal day in your shop, there is a solution to the problem and it is as simple as making a tool change. Bryan Machine has designed and manufactures a multitasking VRT High Speed Spindle. Just one of Bryan Machine's VRT High Speed Spindles can machine a range of materials and they can be a more cost-effective alternative to dedicated high-speed and low-speed spindle machines.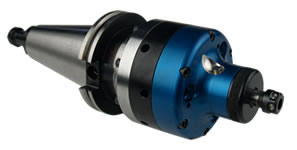 One machine using one VRT High Speed Spindle will make it easier with less cost involved. Part costs are lower because fewer machines and setups are needed, part handling for multiple setups is eliminated, and one tool can apply to wider range of applications to minimize inventory and even the machines themselves that shops keep on hand.
Bryan Machine's VRT High Speed Spindle adapts to most existing CNC machines, including lathes. And for grinders, the coupler matches up to virtually any machine. This is exciting news because a normal spindle will be limited to whatever that machine's motor can generate while our High Speed Spindle can increase spindle speeds allowing operators to optimize tool performance for whatever materials – soft or hard – they are cutting.
For more information or to purchase a VRT High Speed Spindle please contact:
Steve Bryan – President
Bryan Machine Service
sbryan@bryanmachine.com
260.356.5530
Website: www.bryanmachine.com/
Email: sbryan@bryanmachine.com