Products
Tired of expensive high-speed machines that don't have the torque for low-speed work? Now you can have both. When interfaced with your control, these spindles can be used like any other tool in your tool changer, completely unattended. You don't even have to buy one for each speed that you need to run. Our High Speed spindles have a regulated variable speed from 15,000 to 40,000 rpm. They have low noise and low air consumption (.5 hp at 20,000 rpm). There are no gears, veins, or heat; just low maintenance and high-speed power.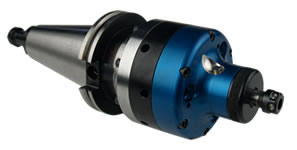 Swiss Lathe Back Tool Holders
Swiss Lathe Back Tool Holders, for round tools, using a standard double angle collet. You can easily use drills from 1/32 diameter to 1/4 in your back tool holder freeing up your sub-spindle. They also have a stop dowel for repeat positioning. Available in 2 lengths.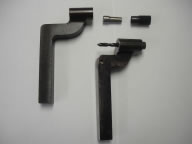 Swiss Lathe Draw Bushing
Swiss Lathe Draw Bushing Compensator. This will compensate for as much as .004 in diameter of stock often eliminating the need for precision ground stock.